In response to the 14 April 2020 decision of Council and in lieu of the Anzac Day March, we have been working with the RSL, City of Adelaide Pipe Band and the Scotch College Caledonian Pipe band, all of whom participate each year in the Anzac Day March, to coordinate Pipers to play in various location across the City. Adelaide's Anzac Day parade has been cancelled amid the coronavirus pandemic but Dawn Services will go ahead without the public. The Anzac Day parade in the city has been cancelled while dawn services across the state will ago ahead but the public will be banned from attending. Legal two-up arrived with its introduction as a table game at the new casino in Hobart in 1973, but is now only offered at Crown Perth and Crown Melbourne. Two-up has also been legalised on Anzac Day, when it is played in Returned Servicemen's League (RSL) clubs and hotels. Several tourist 'two-up schools' in the Outback have also been legalised.
Saturday 25 April, 2020
6.00am - 6.00pm
Radio Adelaide 101.5FM

Radio Adelaide ANZAC Day Special Broadcast 6am – 6pm Saturday 25 April 2020
101.5FM, digital radio or on http://radioadelaide.org.au/
Presenters: Helen Meyer, Louise Jesser, Fiona White, Steve Sokvari
Time

ITEM

ABOUT

06:00:00

Introduction to Radio Adelaide Special Anzac Day Broadcast

06:01:14

Song: Only Remembered

The McCalmans

Song: The Green Fields of France

The Corries

Service Voices: Remembering all whose lives have been impacted by war, not just WW1 and 2.

06:08:20

Song: Geordie McRae

Robin Laing

06:10:20

Song: Mothers, Daughters, Wives

John Schuman and the Vagabond Crew

06:14:20

Blak Diggers… Florence Peters

From Blak Diggers series by the Community Radio Network

06:15:55

Poem to Leon Dawes and comment by his brother Clarence Dawes

Last Australian to be killed in Korea. Age 19

06:18:55

In Memoriam

Ian Anderson

06:20:50

Captain Andrew Bernie, Unrecovered War Casualties (UWC-A) Unit

Finding, recovering and identifying unaccounted Australian servicemen and women.

06:26:35

Sunrise – The Ode

Read by John Bell

06:26:50

The Ode of Remembrance

Lance Corporal Elizabeth Smith

06:29:20

The Last Post/Waltzing Matilda

Macca's Sunday Best. The Last Post symbolises the duty of the dead is over and they can rest in peace.

06:32:25

Reveille (at dawn) Rouse (at 6pm)

Reveille played after the last post at dawn on Anzac Day.

06:33:25

Spoken: The last Gallipoli Veteran

Keith McKenry

06:35:00

Nora Kunzel, Honorary Chaplain Partners of Veterans Assoc.

"and then the whole world walked inside and closed their doors and said we will stop it all, everything to protect our weaker ones, our sicker ones, our older ones…"

06:35:33

Blak Diggers: Michael Bell

From Blak Diggers series by the Community Radio Network

06:37:58

David Lloyd Vice President US Army Small Ships Association

Why we need to recognise the Australian men and boys who served in the USA SS in WW2

06:51:35

Excerpts from a number of Small Ships and Merchant Navy Veterans WW1 and WW2

The last of our small ship veterans – Frank, Ernie, Clarrie, Harry, Len, Peter and David

07:43:59

Evan George and Dan O'Brien – US Army Small Ships

07:56:48

Dr Ruth Lunney – widow of Bill Lunney WW2 Veteran

08:07:13

Don Kennedy Merchant Navy

Don (don't call me a hero) Kennedy

08:16:28

Frank Finch OAM Ode to shipmates

Frank (it's a shame about Wayne) Finch

08:17:14

Ian Pfennigwerth Capt (ret'd) A Navy of our own.

How Australia got a Navy, and what happened then. This is a superb background account of our RAN. Including first in, last out at Gallipoli

09:08:00

Song: Hey Brother

The Wolfe Brothers

09:11:55

Army and Navy Veterans Brian, Bill and Theo aboard HMAS Sydney to Malaya 1964; Ken Matthews 3RAR Malaya and Borneo; Roger Burzacott Malaya; Vicki Crannaford

The enigma of Australia's forgotten War; Operation Claret; Looking for John D Tassel.

10:34:00

Bob Macintosh Korea, Malaya/Borneo and Vietnam (RAAF)

Fighter and Chopper Pilot. Clergyman Rural Australia

11:27:06

Song: Sapper's Lullaby

Fred Smith

11:30:19

Nathan Bolton, Army Engineer 2 tours of Afghanistan

Now advocates within the Mental Health Space, especially for Veterans, trying to break the very stigma that stopped him from getting help when he needed it most.

11:38:27

Don 'Scotty' Allen Navy Clearance Divers

12:21:24

Ray Kemp – RAN Oberon Class Submarines

12:42:12

Graham Cooling – Navy Chaplain

13:07:09

Song: Calm is the Sea

Welsh Choral Spectacular

13:11:37

Sox (Out of This World Radio Adelaide)

Introduces Normie Rowe and John Paul Young

13:17:05

Song: Compulsory Hero

Normie Rowe

13:35:42

Song: Coloured Digger

John Paul Young

13:40:17

Peter Jesser – The Papuan Infantry Battalion

Includes the song the PIB sang before going in to battle. Just Before The Battle Mother.

14:13:44

Blak Diggers: Mick Flick

From Blak Diggers series by the Community Radio Network

14:16:15

Blak Diggers: Len Waters by his widow Gladys

From Blak Diggers series by the Community Radio Network

14:19:57

Song: As if he knows

Eric Bogle – About an Australian horse. Highlights the wastage of war; describes the sadness of Australian mounted soldiers in Palestine in 1918

14:24:52

Barbara Laidlaw POW Hong Kong WW2

Stanley Civilian Internment Camp Hong Kong

15:17:07

Song: Suo Gan

The song sung by Allied civilian women as they breast fed their babies at Stanley Internment Camp in Hong Kong WW2

15:20:10

Song: Letters from Wilfred

Allen Bell

15:25:56

Jan Morice – Letters Home

Pacifist movement WW1

Mother founding member of Women's League for Peace and Freedom. The turmoil created in a Pacifist family when a son enlists

15:46:53

Song: I didn't raise my son to be a soldier

Recorded at Radio Adelaide 2014 Heidi Silberman & Catherine Crowley

15:47:52

Megan Spencer: Harry's story 2/7th Battalion WW2

Excerpts from her grandfather's handwritten memoirs. Megan dives deep into Corporal Spencer's prisoner-of-war experience. Insights gleaned about remembering

16:45:16

Poem – Heroes

Read by Fiona White commemorating the Merchant Navy. A reminder not to miss-use the word Hero

Song: Merchant Navy marching tune… All the nice girls love a Sailor

Royal Australian Navy Band

16:53:10

Frank Finch OAM Ode

Backed by the RAAF Concert Band

16:53:23

Navy's sunset bugle call

Royal Australian Navy Band

16:55:58

Song: Say a prayer

Fred Smith (in memory of the loss of HMAS Canberra at the Battle of Savo Island on 9 August, 1942.

17:00:00

Radio Adelaide's The Folk Show plays folk music with ANZAC themes and an in memorial tribute to veterans

18:00:00

Last Post Ode and Rouse.
ANZAC Day is held annually on April 25th, the anniversary of the Dardanelles Campaign Landing in 1915, and traditionally includes commemorations across the country at dedicated war memorials, community precincts and RSL Sub-Branches. ANZAC Day is honoured with a national public holiday. Sunday 25th April 2021 is ANZAC Day and the public holiday is declared for Monday 26th April in South Australia, the Northern Territory and Broken Hill.
Public health is the prime consideration in this extraordinary time of world-wide COVID-19 health restrictions. Due to the uncertainty of what Covid-19 regulations may apply, several options are being considered for how ANZAC Day may be commemorated in 2021.
RSL SA regrettably announced the cancellation of the public 2020 Adelaide ANZAC Day activities. As a result of these restrictions the RSL encouraged people to Light Up the Dawn and pay respects differently. This took several forms including from homes, driveways and a balconies. People spread the word and took it to their neighbourhoods.
Thank you to Australia for embracing Light Up The Dawn with such respect and magnitude. We were separate but united to remember generations of service, sacrifice and the servicewomen and servicemen serving in our name now.
Remembrance of service and sacrifice are important to our society. You may choose to pay respects in your own personal way.
Consider:
Light Up the Dawn

commemoration from your own driveway, with neighbours and the RSL. For a guide to format your own service at home see below. Images for public use in social media can be downloaded at

bit.ly/3aSuhKr

Remembering from within your home with Light Up the Dawn, media broadcasts and online coverage.

Visiting a local war memorial at any time of the day, other than dawn, within exercise/recreation and social distancing conditions

Visit Virtual War Memorial Australia. Register and contribute pictures and information on your relatives who served Australia on active service.
Guide for a Home Service
RSL SA offers this guide to conducting a personal remembrance service. It contains links to bugle calls and music to complement your words.
Introduction: Use your own words of reflection, name people you remember today, give gratitude for those who served and sacrificed, and to those still serving our nation.
Recite the Ode:
They shall grow not old, as we that are left grow old:
Age shall not weary them, nor the years condemn.
At the going down of the sun and in the morning
We will remember them.
Play

The Last Post
Minute of Silence
Play

Rouse
Recite: Lest We Forget
Play

New Zealand National Anthem
Play

Australian National Anthem
Conclusion
You may add prayers, hymns, readings and personal content to reflect your beliefs. Consider reciting the

ANZAC Requiem

. Bugle calls and music thanks to

www.anzacportal.dva.gov.au

Please use volume levels for your own use, that are respectful to neighbours.
ANZAC Day March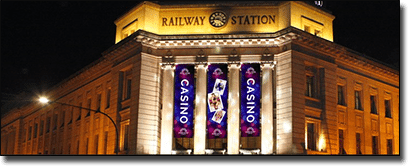 Subject to Covid-19 regulations, the Adelaide ANZAC Day March traditionally commences at 9.30am from North Terrace, Adelaide, from the SA National War Memorial, and turns right onto King William Road. The march concludes at the Cross of Sacrifice in Pennington Gardens, North Adelaide. Spectators are invited to line both North Terrace and King William Road (between North Terrace and the Adelaide Bridge).
It is important to note that the ANZAC Day March in Adelaide is a commemorative march and not a parade.

Statement of the principles of the Adelaide ANZAC Day March

includes information for descendants of deceased former members of Australian, New Zealand and allied/coalition forces.
Adelaide Casino Anzac Day Holiday
Veterans, ex-service personnel, allies and Australian Defence Force units participate in the ANZAC Day March. The event is televised live on ABC Television.
Cross of Sacrifice Service
A Remembrance Service is held at the Cross of Sacrifice in Pennington Gardens, North Adelaide, from approximately 11.30am, immediately after the ANZAC Day March concludes.
This service provides a significant finale to the commemorations, with the Dawn Service representing a funeral, the March representing the walk to the grave site and the service at the Cross of Sacrifice representing the burial.
The Cross of Sacrifice Memorial stands in gardens opposite St Peters Cathedral. The gardens contain the Cross of Sacrifice, a memorial to the men who died during the Great War (WWI) of 1914 – 1920. The foundation stone for the cross memorial was laid on August 4 1920. The memorial is 11.6m high, made of Tea Tree Gully stone, and on the face is the Crusader's Sword. At the far end of the garden is the Stone of Remembrance with engraving that states 'Their Name Liveth For Evermore'. This stone was laid in 1923 and is made of Palmer marble. An Ataturk Tribute and Eternal Flame also feature in the garden.
The general public are welcome to attend this service.
Australian Defence Force
Ceremonial participation by the ADF is subject to operational requirements, the number of taskings requested and availability of personnel. Sufficient notice needs to be applied to requests and must use the relevant forms
ADF CEREMONIAL REQUEST FORM
ADF ASSISTANCE TO COMMUNITY REQUEST FORM
Australian Flag Protocols
Click here

for the Flag Protocols Guide issued by the Department of the Prime Minister & Cabinet
Adelaide Casino Anzac Day Events
Medal Compliance
RSL SA has a strict code of compliance that members are expected to follow when wearing medals. The guide below gives details on this.
RSL Medal Policy Guide
ANZAC APPEAL
To enable the RSL to continue assisting veterans, families and Defence personnel with advocacy, emergency accommodation, bill payment, grocery vouchers and wellbeing programs we rely upon public donations. You can donate securely online by clicking here:
ANZAC APPEAL DONATION
We thank the businesses, RSLs and volunteers that collected for the ANZAC Appeal.